You were looking for an app, just to kill some time, and stumbled upon an app called "Mystic Messenger". It sounded interesting so you downloaded it.

Once you opened it, you found yourself chatting with someone nicknamed "Unknown". They persuaded you to go to some studio apartment.

As soon as you walked into to the apartment, your app is suddenly connected to a mystic group chat with attractive guys!? After a long chat, they ask you to join their secret party planning association called RFA...
~Welcome to the Mystic Messenger Wikia~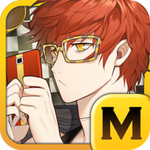 "Mystic Messenger" (also known as 수상한메신저 Susanghan Messenger) is a female-oriented otome mobile game produced by Cheritz.

Users can experience a love story through an interactive messaging app via receiving phone calls and texts depending on the relationship with other characters.

On this wiki, you can find information on the characters, routes and more.
We currently have 26,021 edits to 140 articles on this wiki since it was created. We need all the help we can get to help expand and add articles to this wiki!
Characters
Find more characters here
Websites
This game can be downloaded from Google Play and App Store
If you are experiencing any problems during gameplay or with the app, contact Cheritz at goo.gl/rdCesP
NOTICE
~ WARNING ~ This wiki will contain heavy spoilers regarding the plots of the game and the characters.
We are also in no way affiliated with Cheritz so if you encounter any problems on gameplay or the application itself, please contact them directly at goo.gl/rdCesP